Our mission at Carbon Rewild is to make the monitoring of wildlife and biodiversity more accessible.
After 18 months of development we are excited to introduce our first product: an easy-to-use acoustic monitoring service.
This service has four steps:
Ship – We ship you an audio recording device
Record – You set it up and leave it for a month
Return – You take it down and then post it back to us
Report – We analyse the data and send you a report
1. Shipping and Unboxing
Once you make an order with us we will ship you a recording device.
We will ship this device a few days before the month you selected when ordering and the device will be posted through your letter box a few days later.
When you receive the device open it via the large front flap.
Inside you will find:
A green recording device
A velcro strap
Instruction
A return envelope
IMPORTANT – you must keep the box and the return envelope in a safe place as you will need it to return the device.
2. Setting Up and Recording
Thread the Velcro strap through the slots in the device with the textured surface facing outwards.
Take the recording device to a suitable location for monitoring birds and bats. And wrap the Velcro strap around a tree, branch, or post.
You will find more details about how to locate the device here.
As a brief overview, however, locate the device:
in or near a suitable habitat (usually this will be a wooded area but may be near a wetland)
away from sources of noise such as running water or a road
away from public areas such as footpaths
1-2m off the ground
Once the device is in place make a record of its location.
Then TURN ON THE DEVICE by flicking the switch into the ON position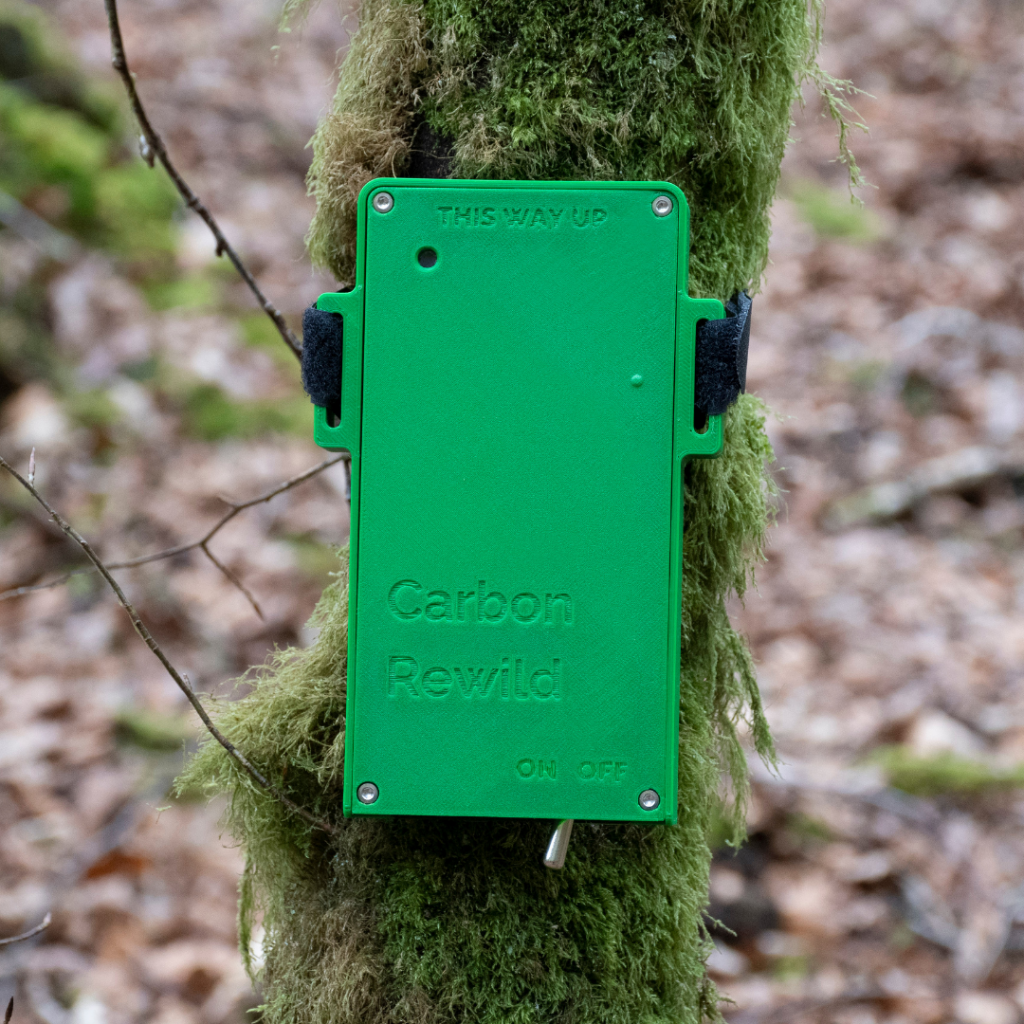 3. Take Down and Return
After one month relocate the recording device and TURN THE DEVICE OFF by flicking the switch into the OFF position.
Then undo the Velcro strap and place the device and the strap back into the original box.
Place the box inside the prepaid return envelope and seal.
Then take the device to a Post Office or Royal Mail drop off and they will ship it back to us.
4. Reporting
Once we receive your device then we will analyse the recordings and identify the bird and bat calls that have been recorded.
We then collate all that data in a report and send it over to you.